Enveloping classic lines from the second half of the 20th century have been reinterpreted, yet without losing those traditional and exclusive traits which have characterised over half a century of history.
Traditional furniture always preserves warmth and style and manages to endure over the centuries thanks to the craftsmanship techniques handed down by the Made in Italy tradition.
Classic lines and top quality materials distinguish Blumen collection, transformed by harmonious and homogeneous fabric colours and nuances.
A refined combination of gold and silver enchances the wooden structure.

Silver and gold
A daring union full of light, able to merge two highly precious elements with distinctive features. The combination of gold, which is considered the ultimate luxury material, with a pearly silver base is the right choice to celebrate the Blumen collection. A tale, a journey that explores new trends destined to become style.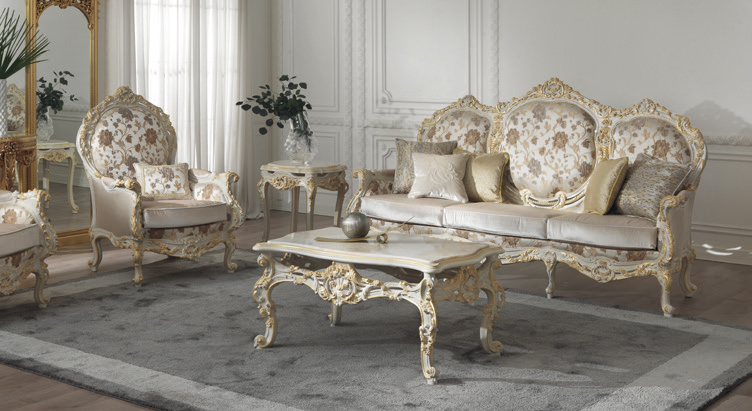 FABRICS AND PATTERNS
Design creates new, unparalleled combinations: floral patterns harmoniously blend with plain colours in a scale of beige and neutral nuances. The color base remains constant and outlines the desire for contrast by proposing a pearl grey that brings light and clarity to the Blumen line.
UNIQUENESS
These sofas are like jewels to show and exhibit in a shop window. Blumen is a collection that fully expresses its preciousness through a refined luxury, which is able to convey over half a century of Made in Italy furniture.